"Integration of Traditional Medicine with modern medicine would contribute to advancing the health system attributes related to quality, efficiency, equity, accountability, sustainability and resilience." This was stated by Dr. Mansukh Mandaviya, Union Minister of Health and Family Welfare, in the presence of Shri Sarbananda Sonowal, Union Minister of Ayush and Dr. Tedros Adhanom Ghebreyesus, Director-General, World Health Organization during his valedictory address at the G20 co-branded event, WHO Traditional Medicine Global Summit, co-hosted by the Ministry of Health & Family Welfare and the Ministry of Ayush. Shri Mahendra Munjapara, Union Minister of State for AYUSH and Dr Bharati Pravin Pawar and Prof. S P Singh Baghel, Union Ministers of State for Health and Family Welfare were also present.
The two – day Global Summit for Traditional Medicine, with the theme "Towards Health and Well-being for All" explored the role of traditional complimentary and integrative medicine in addressing pressing health challenges and driving progress in global health and sustainable development.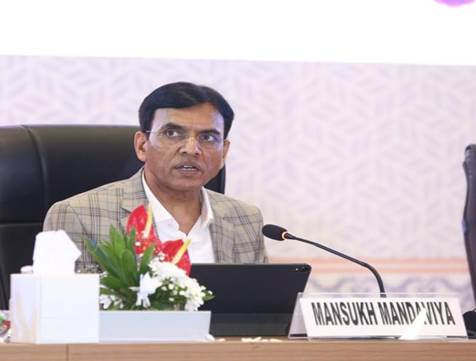 Speaking on the occasion, Dr. Mandaviya said, "Since the advent of a public health systems approach, there has always been a focus on providing holistic health services centred around the principles of healthcare integration. WHO's Global Conference on Primary Health Care, 2018 & Declaration of Astana on Primary Health care had also mentioned that the success of primary healthcare will be driven by applying scientific as well as traditional knowledge and by extending access to a range of healthcare services, which include traditional medicines."
On the different types of traditional medicinal practices that are followed in member states, such as Ayurveda, Traditional Chinese medicine, Herbal medicine etc, the Union Health Minister said, "In India, under the leadership of the Hon'ble Prime Minister, we have a specific focus on Traditional Medicine & established a separate Ministry of AYUSH, which includes Ayurveda, Yoga, Unani, Siddha, and Homoeopathy."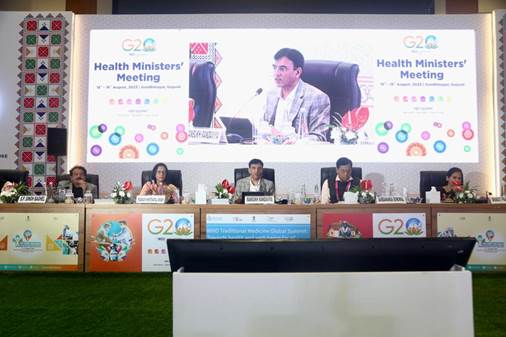 He highlighted that "during the COVID-19 crisis, traditional medicines had played a very important role through scientific and evidence-based medicines in terms of preventive, therapeutic and public health management". "Ministry of Health and the Ministry of AYUSH works closely to integrate, endorse, and develop holistic health, including through availability of traditional medicines and yoga in 150,000+ Health & Wellness Centres and by establishing centres of integrated medicines in our tertiary hospitals", he stated.
Dr Mandaviya said, "under the overarching theme of India's G20 Presidency of 'One Earth, One Family & One Future' and focus on reducing fragmentation and enhancing convergence, this meeting will be a torch bearer for effective health systems strengthening and will bring additional research, evidence and innovation to help us meet health-related Sustainable Development Goals."
Shri Sarbananda Sonowal said that "the Ayush industry's evolution to holistic healthcare aligns with a global shift in health consciousness. This trend recognizes that health encompasses physical, mental, emotional and spiritual dimensions." He noted that the summit will help identify potential areas for collaboration and innovation in traditional medicines and help harness traditional medicine in achieving Universal Health Coverage goals.
Highlighting that the pandemic has underscored the significance of holistic health approaches, leading to a surge in interest and recognition for AYUSH systems, the Union AYUSH Minister said, "the AYUSH systems of medicine like Ayurveda emphasizes equally on prevention and treatment parts of healthcare. Practices like yoga helps in mind and body healing."
Shri Sonowal also emphasized on the versatility of AYUSH across different industries. He said, "the pharmaceutical and food processing sectors benefit from the demand for herbal remedies and natural products, while the diagnostic sector gains from AYUSH's preventive focus. This synergy amplifies India's healthcare ecosystem, contributing to economic growth and healthcare sustainability."
Dr. Tedros Adhanom Ghebreyesus said, "Traditional medicines never had this kind of attention from governments, even though they have been practiced since millennia. Many of the important treatments of conventional medicines have their origin in traditional medicines like treatment for small pox." He regretted that Traditional Medicinal practices are mostly stigmatized as unscientific but emphasized that they have their own utility as well. "Recognizing the benefits in the use of traditional medicines, WHO recently established the Global Centre for Traditional Medicine in Jamnagar, Gujarat", he stated.
Dr. Ghebreyesus appreciated India's role in promoting the use of traditional medicines and hoped that this first-ever summit on traditional medicines will be a catalyst for bringing together modern science and traditional knowledge in making health systems better.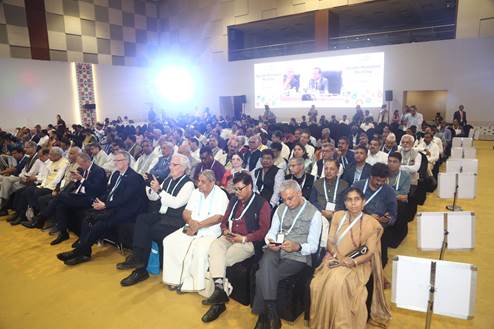 Shri Sudhansh Pant, Secretary, Ministry of Health and Family Welfare: Shri Rajesh Kotecha, Secretary, Ministry of AYUSH; Shri Lav Agarwal, Additional Secretary, Ministry of Health and Family Welfare; and Dr. Poonam Khetrapal Singh, WHO Regional Director, South East Asia Region, also participated at the event. The event also witnessed the participation of scientists, practitioners of traditional medicine, health workers and members of the civil society organizations from all over the world across the two days.
****