by: Shashikant Nishant Sharma
"The Launch of Reference Fuels produced by IndianOil's Paradip & Panipat Refineries, utilizing the intellectual talent available at IndianOil's Research & Development Centre, is a dynamic achievement", said Shri Hardeep Singh Puri, Minister of Petroleum & Natural Gas and Housing & Urban Affairs. He was speaking at the historic occasion marking the launch of 'Reference Gasoline and Diesel Fuels' produced by IndianOil for the first time in India. Shri Pankaj Jain, Secretary, Ministry of Petroleum & Natural Gas and Shri S.M. Vaidya, Chairperson, Indian Oil were also present at the event here today.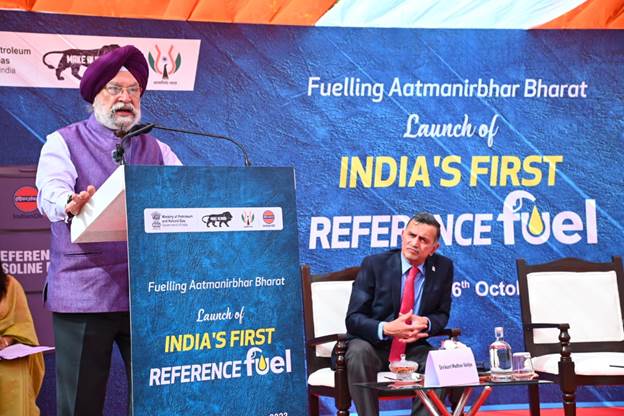 Addressing the gathering, Shri Hardeep Singh Puri said that this step stamps our indigenous technical prowess which gives impetus to the Make in India mission of the Government of India. It is yet another initiative to foster the AtmaNirbhar Bharat vision of our Hon'ble Prime Minister, he noted.
The Minister said that this is the first time that India is venturing into the production of Reference Gasoline and Diesel Fuels. He said, the home-grown development of these products in-line with international benchmarks testifies to the brilliance and relentless hard work of IndianOil. This achievement not only reduces India's dependence on imports but also catapults India's energy industry to the select global players armed with exclusive competencies, he stressed.
The Petroleum & Natural Gas Minister spoke about the four-pronged energy security strategy adopted by the Ministry of Petroleum & Natural Gas. He said that the strategy guided by Prime Minister Shri Narendra Modi's vision of transforming India into an 'energy-independent' nation by 2047, includes, (i) Diversification of energy supplies (ii) Increasing India's exploration and Production footprint (iii) Alternate energy sources and meeting energy transition through Gas based economy and (iv) Green Hydrogen and EVs.
Shri Puri lauded the efforts of Oil Companies that are making major strides toward fulfilling national goals & commitments under the guidance of the Ministry of Petroleum & Natural Gas. He also mentioned about the Ministry's efforts in the direction of clean energy especially Bio-fuels section, transition to BS-VI fuels and introduction of EV charging stations, CBG, Sustainable Aviation Fuel, Ethanol blending, and Hydrogen fuels are to be mentioned.
Calling Panipat Refinery & Petrochemicals Complex as the flagbearer of path-breaking initiatives for enhancing IndianOil's green agenda by commissioning India's first 2G & 3G ethanol plants, the Minister said that the upcoming 10 KTA green hydrogen plant at Panipat will further augment IndianOil's green energy transition. The Unit is on the cusp of a major expansion and it heralds a promising future for the nation's energy industry, he added.
Referring to the Paradip Refinery as the most modern and complex refinery of India that can process 100% high sulphur crude oil, he said that the refinery marked a major milestone when it handled its 1000th vessel at the south oil jetty in the recent past.
The Minister complimented IndianOil's Research & Development Centre for crossing the milestone of filing 1500 patents and winning recognition for decades of its pioneering work. "I uphold the contribution of IndianOil R&D Centre along with Paradip & Panipat refineries in the successful production of the reference fuel", he said.
Shri Hardeep Singh Puri acknowledged the significant strides made by India towards fulfilling its aspirations for a more sustainable future. He noted the steps undertaken for reducing emissions such as expedited implementation of fuel blending, moving the ambitious target of achieving 20% blending from 2030 to 2025, the sale of E20 blended fuel at over 5,000 petrol retail outlets.
Recalling the introduction of green hydrogen fuel cell buses in Delhi recently, he said that this confirms our dedication to eco-friendly alternatives
Given the status as the 5th largest economy in the world, while maintaining equilibrium in crude oil prices; the Minister said, we are optimally harnessing our potential as a coveted player in the global energy market.
Highlighting the importance of innovation in gas & energy sector, the Minister congratulated the oil companies for consistently sustaining innovation in their processes and technologies to improve product line for the customers.
About Reference Fuels:
IndianOil has successfully commenced the production of Reference Gasoline and Diesel Fuels for the first time in India. These fuels are used for calibration and testing of vehicle by Automobile manufacturers and testing agencies like ICAT (International Centre for Automotive Technology) and ARAI (Automotive Research Association of India). The indigenous development of this product is in-line with Hon'ble Prime Minister's vision for "Atmanirbhar Bharat".
IndianOil's teams of Refineries and R&D have strived hard to achieve this feat in the shortest possible time. To meet the International standards, these products had passed through three layer of certification viz., Refinery lab, IOCL R&D Centre and an internationally reputed third party lab.
India is dependent on imports to cater to the demand for this specialized fuel. These indigenously developed products will lead to import substitution at better price and minimum lead time for the Vehicle manufacturers. Reference Gasoline fuels will be available in E0, E5, E10, E20, E85, E100 from Flagship Paradip Refinery. Reference diesel fuel shall be available in B7 grade from Panipat Refinery.
Reference fuels (Gasoline and Diesel) are premium high-value products, used for calibration and testing of vehicles by Auto OEMs and organizations involved in testing and certification in the automotive field.
Specification requirements of Reference Fuels are more stringent than commercial gasoline and diesel. The demand of Reference Fuels in India is currently met by importing from other countries.
The indigenously developed product by IndianOil meets Automotive Industry Standard (AIS) specifications, substitutes imports, and is available at better price with reduced lead time.
Indian Oil Corporation Limited has established facilities for production of Reference Gasoline Fuels (E-5, E-10 and E-20) at its Paradip Refinery and Reference Diesel Fuel (B-7) at its Panipat Refinery.
******