The Department of Consumer Affairs along with its subordinate / attached offices / autonomous bodies and its field formations is observing the Special Campaign 3.0, to foster cleanliness and elevate workplace experiences at Government offices. On 27th September, 2023, Shri Rohit Kumar Singh, Secretary, Department of Consumer Affairs visited the divisions in Krishi Bhawan and reviewed the preparation of the Department for special campaign 3.0.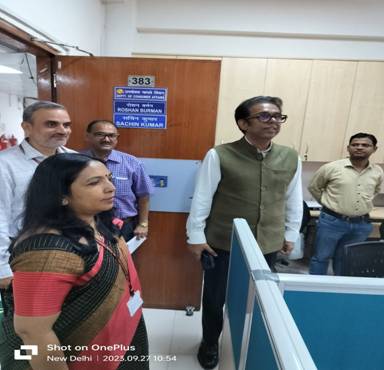 The Special Campaign is being conducted in all Central Ministries/ Departments, attached/subordinate offices of Government of India from 2nd to 31st October, 2023 under the aegis of Department of Administrative Reforms & Grievances (DARPG) with the aim to expedite the resolution of pending matters and to promote cleanliness in all government offices. For the Department of Consumer Affairs, the targets were set under various categories and sites for cleaning were identified. Record Management and enhancement of workplace experience in offices will be the prime focus during the campaign. DoCA and the other units have identified 150 sites for cleanliness campaigns / activities under the purview of Special Campaign 3.0.
The Department has identified 994 public grievances and 1496 public grievance appeals apart from 1922 files to be reviewed for weeding out to ensure the cleanliness of the office premises. During the campaign the Department will put in all efforts to dispose of the pendency in MP references, Parliamentary assurances, PMO references, IMC references, State Government references, etc.
Our subordinate / attached / autonomous bodies like Bureau of Indian Standards (BIS), The National Consumer Disputes Redressal Commission (NCDRC), Indian Institute of Legal Metrology (IILM), National Test House (NTH), Regional Reference Standards Laboratory (RRSL) are doing a number of outreach programmes, like distributing pamphlets to create awareness among general public about swachhata, harms of single use plastic at market places, by holding essay writing competitions, drawing competitions, etc. at schools. Using this opportunity they are cleaning their office premises, laboratories, training institutes, hostels, quarters, etc. by removing the bushes and planting saplings and trees to enhance the greenery. Apart from that all these offices have identified large amount of scrap materials including old furniture, e-waste, obsolete items, etc. to be auctioned during the campaign and due to that it is expected a large area will be freed which can be put into office use. They are involving all their employees for conducting several sustainable cleanliness drives during this campaign period.
Daily progress is being monitored and uploaded on the SCDPM portal hosted by DARPG. All Attached, Subordinate and Autonomous Organizations are enthusiastically participating in the campaign in full swing to achieve the targets set by the Department for the period.
***