"The trade fair offers an opportunity to present the initiatives undertaken for health with a focus on growing momentum of the range of healthcare services available and accessible to the public." This was stated by Dr. V K Paul, Member (Health), NITI Aayog as he inaugurated the Ayushman Bhav Health Pavilion at the 42nd India International Trade Fair (IITF) in the presence of Shri Sudhansh Pant, Secretary, Ministry of Health and Family Welfare today. The theme of this year's pavilion of the Union Ministry of Health and Family Welfare is "Vasudhaiva Kutumbakam, United by Trade", while the theme of the Health Pavilion is "Ayushman Bhava".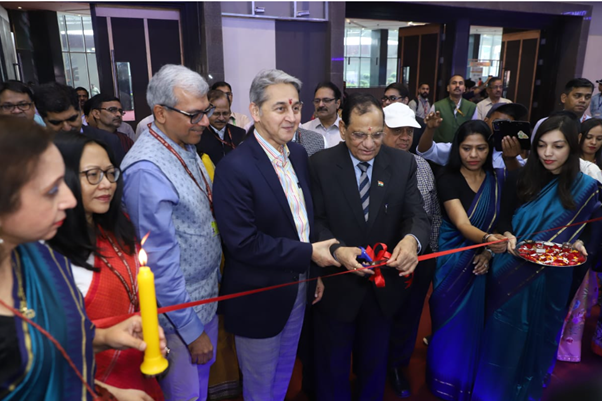 Addressing the gathering on the occasion, Dr Paul lauded the different Health kiosks focused on preventive, curative and rehabilitative health care, informing the public on comprehensive health schemes being offered by the Government especially under Ayushman Bhav. Lauding the stalls at the pavilion, he emphasized on importance of creating awareness for diseases and hence availing required treatment, and mitigating any adverse impact as far as possible. Dr Paul highlighted that contribution of Jan Andolan movement, stating that awareness amongst the public would lead to behavioral change, by way of endorsing good health practices.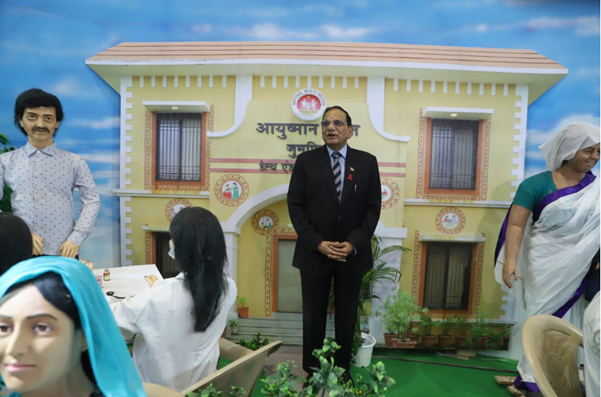 Citing the recent initiative of Sickle Cell Anaemia, Dr. V.K Paul highlighted the importance of generating awareness via counselling to ensure correct treatment and mitigate adverse effects of the disease. Reflecting on the issue of adolescent health, he stated "it is imperative to strengthen health systems to ensure a healthy future for the coming generation" and emphasized the role of Jan Andolan in achieving this objective. He further lauded the establishment of 1,60,000 Ayushman Bharat Health and Wellness Centres stating that they are critical to ensuring delivery of affordable and accessible healthcare services in the rural areas. He further added that "ABHA records will play an instrumental role in ensuring delivery of healthcare services across the nation."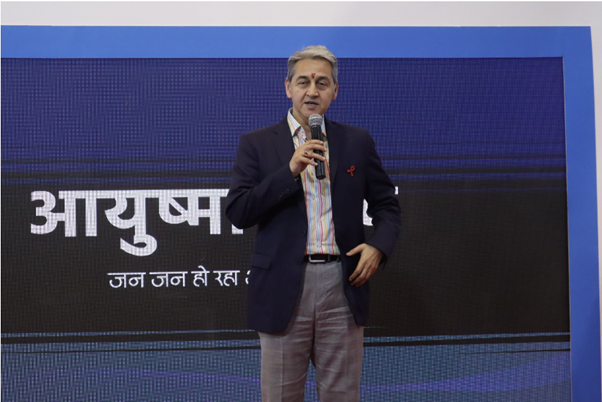 Shri Sudhansh Pant emphasized on the Digital Health initiatives underscoring their universal impact and applicability. He stated "Ayushman cards are ensuring last-mile delivery of free healthcare benefits to the underprivileged through the Ayushman Bharat Pradhan Mantri Jan Arogya Yojana." He further urged stakeholders to engage with the array of stalls accessible in the event and participate in generating awareness for health initiatives.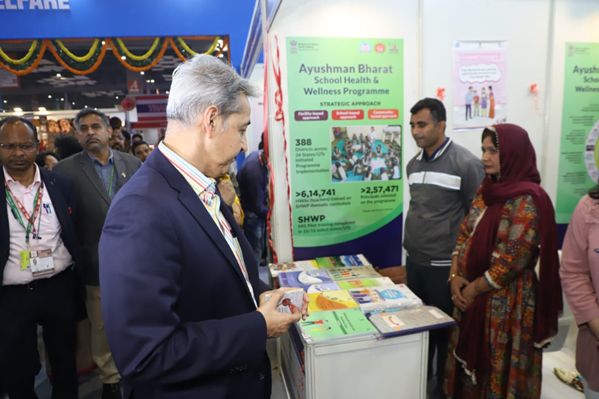 The Health Pavilion showcases various initiatives, schemes and achievements of the Union Health Ministry including the recently launched PM TB-Mukt Bharat Abhiyan, National Universal Immunization Programme, FSSAI, NACO, AB PMJAY, NVBDCP, NHA. It also has various stalls for informative activities, life-saving skills, checking and screening for diabetes, anaemia, blood pressure, BMI etc.
The event was attended by Dr. Rajiv Bhal, Director General, Indian Council of Medical Research, Ms. Roli Singh, Addl Secy, Ministry of Health, Ms. L. S Changsen, AS&MD, Ministry of Health, Ms. Hekali Zhimomi, Additional Secretary, senior officials and other dignitaries.
****