REC Limited, a leading public sector enterprise under the Ministry of Power, hosted a workshop on 'Customized Debt Financing for Commercial Mining & MDOs (Mine Developers and Operators).' The workshop, held at Hotel Oberoi, New Delhi, was attended by key stakeholders from government and industry, including from the coal mining and financing sectors. The workshop agenda was structured to offer a comprehensive understanding of customized debt-financing solutions and as a platform to share knowledge and explore innovative ways of financing that can further drive the growth and development of this crucial sector. The workshop featured presentations from REC and the Mining agencies, highlighting their unique perspectives on financing challenges and opportunities within the mining sector. The workshop provided an opportunity for presentation of both lenders' and borrowers' perspectives, followed by open forum discussion, in which queries of Mining Developers were addressed.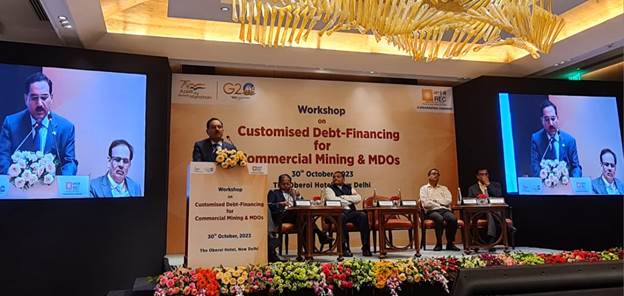 Chief Guest and Secretary, Ministry of Coal, Shri Amrit Lal Meena advised banks and non-banking financial companies to find suitable and appropriate solutions regarding credit availability for commercial coal mines, while working on the proposals placed before the Ministry. He also highlighted the necessity of efficiently closing coal mines once they reach the end of their operational life and of rejuvenating such exhausted mines for sustainable endeavors like Pumped Storage facilities and Solar Parks. In doing so, the Secretary emphasized the commitment to harness these lands for more sustainable purposes in the future.
Additional Secretary, Ministry of Coal, Shri Nagaraju commended REC's initiative and said that the coal sector is there to stay for meeting base load demands.
Addressing the participants, Chairman and Managing Director, REC Limited, Shri Vivek Kumar Dewangan said: "Mining industry in India plays a pivotal role in the economic progress of the nation. The Government's focus on 'Atmanirbhar Bharat' and 'Make in India' have set the stage for expansion in the mining sector and it is high time for customized debt financing solutions. We at REC are committed to being a partner in this journey".
Director (Marketing), Coal India Ltd., Shri Mukesh Choudhary reiterated the role of Mining and Mine Developers in their contribution towards the development of the nation. He urged Financial Institutions to come forward and support the developmental works in the sector, with special mention of the role of REC through its financial solutions supplementing the growth needs of the nation.
Director (Finance), REC Ltd., Shri Ajoy Choudhury and Director (Projects), REC Ltd., Shri. V K Singh addressed the queries raised by the Mining Developers and highlighted the financial solutions provided by REC Limited.
About REC Limited
REC Limited is an NBFC focusing on Power Sector Financing and Development across India. Established in 1969, REC Limited has completed over fifty years of operations. It provides financial assistance to state electricity boards, state governments, central/state power utilities, independent power producers, rural electric cooperatives and private sector utilities. Its business activities involve financing projects in the complete power sector value chain; for various types of projects including Generation, Transmission, Distribution and Renewable Energy. REC's funding illuminates every fourth bulb in India. REC has recently diversified into financing infrastructure and logistics sector as well. The Loan Book of REC stands at Rs 4.54 Lakh Crore, ending the first quarter of the current financial year.
***