The third Indo-Pacific Economic Framework for Prosperity (IPEF) Ministerial Meeting was held in San Francisco, California on 14 November 2023 hosted by the US. Union Minister for Commerce and Industry, Consumer Affairs, Food and Public Distribution, and Textiles, Shri Piyush Goyal participated in the Ministerial meeting.
IPEF was launched jointly by the USA and other partner countries of the Indo-Pacific region on May 23, 2022 at Tokyo. IPEF has 14 partner countries including Australia, Brunei, Fiji, India, Indonesia, Japan, Republic of Korea, Malaysia, New Zealand, Philippines, Singapore, Thailand, Vietnam & USA. It seeks to strengthen economic engagement among partner countries with the goal of advancing growth, peace and prosperity in the region.
The framework is structured around four pillars relating to Trade (Pillar I); Supply Chains (Pillar II); Clean Economy (Pillar III); and Fair Economy (Pillar IV). India had joined Pillars II to IV of IPEF while it has an observer status in Pillar-I.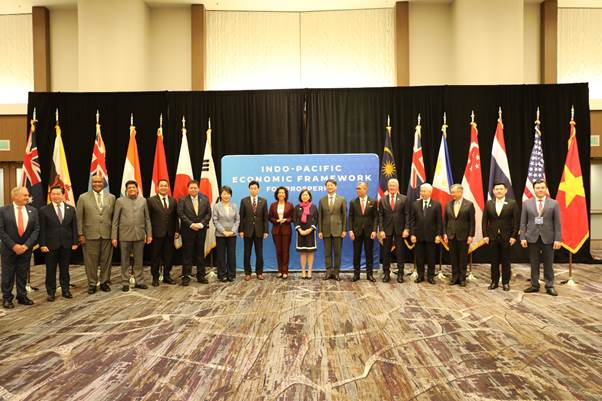 At this Ministerial Meeting, negotiations under the IPEF Pillar-III (Clean Economy), Pillar IV (Fair Economy) and the Agreement on the Indo-Pacific Economic Framework for Prosperity (which seeks to establish a ministerial-level council and a commission) were substantially concluded. Moreover, following the substantial conclusion of the negotiations on the IPEF Supply Chain Agreement in May 2023, the IPEF Ministers signed the IPEF Supply Chain Agreement during the Ministerial Meeting. Pillar-wise Press Statement was issued at the end of the San Francisco Ministerial meeting highlighting the contours and the efforts planned under each of the substantially concluded Pillars (link below).
Under the Clean Economy (Pillar-III), IPEF partners are aiming to advance cooperation on research, development, commercialization, availability, accessibility, and deployment of clean energy and climate friendly technologies, and facilitate investment towards climate-related projects in the region. During his intervention under this Pillar, Shri Goyal emphasized the need for increased collaboration among partners on research and development of innovative and affordable climate friendly technologies. Further, Shri Goyal stressed the need to prioritize implementation of Cooperative work programmes envisaged under this pillar, including hydrogen supply chain initiative and other proposals in the pipeline such as India's proposal for biofuels and e-waste recycling.
Under the Fair Economy (Pillar-IV), IPEF partners aim to strengthen implementation of effective anti-corruption and tax measures to boost commerce, trade, and investment among IPEF economies. During his intervention under this Pillar, Shri Goyal highlighted enhancing information sharing among partners, facilitating asset recovery and strengthening cross-border investigations and prosecutions as the key benefits to emerge from the Agreement. Further, he highlighted that this will strengthen the joint resolve to fight against corruption, money laundering and terror financing.
* Link to Pillar II-IV San Francisco IPEF Statement
***