Jammu, November 2, 2023 – Shri Sanjeev Chopra, Secretary of the Department of Food and Public Distribution (DFPD), Government of India, addressed beneficiaries and emphasised the importance of raising awareness for the One Nation, One Ration Card (ONORC) initiative during an awareness drive workshop in Jammu & Kashmir.
The awareness drive workshop took place at Udyog Bhawan, Rail Head Complex, Jammu, on November 2, 2023, , and was aimed at enlightening beneficiaries about the benefits of ONORC, a transformative scheme designed to ensure seamless access to ration entitlements across the nation.
Other dignitaries who attended the workshop included Shri Zubair Ahmed (Secretary, Dept of FCS(CA, J&K), Sh. Ramesh Kumar (Divisional Commissioner, J&K), Sh. Abdul Rashid War (Labour Commissioner, J&K), Ms. Rifat Kohli (Director, Dept of FCS&CA, Jammu) and other senior officials. About 120 beneficiaries and FPS dealers attended the workshop. The event was broadcast live over DFPD's official YouTube page.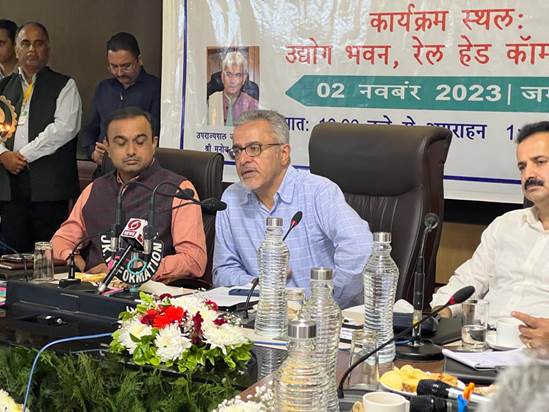 Shri Sanjeev Chopra, Secretary, DFPD GoI, addressing beneficiaries in the ONORC workshop conducted in Udyog Bhawan, Jammu
During his address, the Secretary, DFPD, emphasised the motto, "Aap jahan, aapka ration waha", highlighting the key principle of ONORC. This initiative allows beneficiaries to avail their entitled ration from any Fair Price Shop (FPS) of their choice, no matter where they are in the country.
He also highlighted the remarkable success of the ONORC program, revealing that over 2.5 crore transactions are recorded nationwide every month. In Jammu & Kashmir alone, since the inception of ONORC, 18 lakh transactions have been recorded to date, underscoring a strong start for the initiative.
Addressing concerns among FPS dealers that they may face a shortage of ration while serving beneficiaries from other regions, he clarified that FPS dealers can easily request additional quotas of ration using their Electronic Point of Sale (e-POS) devices. This ensures a smooth and uninterrupted supply of ration to beneficiaries.
In addition to these efforts, he highlighted other significant initiatives and schemes of the Department, including the Pradhan Mantri Garib Kalyan Anna Yojana (PMGKAY) and rice fortification initiative. These initiatives collectively aim to achieve the food and nutritional security of over 80 crore beneficiaries across the nation.
Furthermore, he reiterated that the State Governments can now utilise funds from the Mahatma Gandhi National Rural Employment Guarantee Act (MGNREGA) funds to create Model FPSs. These model shops will serve as examples of efficiency and modernization, setting a benchmark for other FPSs in the region.
At the conclusion of the event, Sanjeev Chopra, Secretary, DFPD, also handed over bags of fortified rice to beneficiaries attending the event.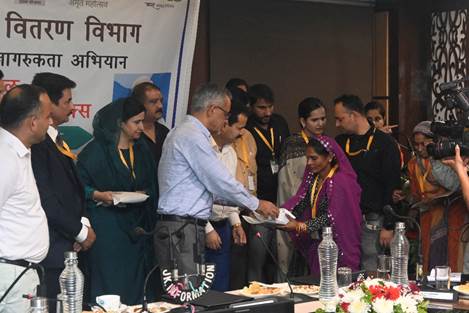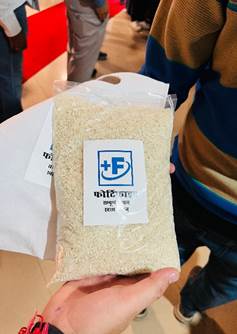 (Left) Shri Sanjeev Chopra handing over bags of fortified rice to a beneficiary; (Right) A bag of fortified rice.
******